On 11 October 2016,the CNPD and the media and communications department (Service des médias et des communications - SMC) organised a conference on the main changes introduced by the new general data protection regulation.
This conference marked the start of a series of events specially devised as part of the 'Digital Lëtzebuerg' initiative to present the new regulation to the various stakeholders and to guide them through its implementation.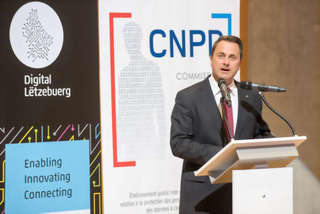 Before an audience of more than 500 people at the Maison du Savoir in Esch-Belval, Prime Minister and Minister for Communications and Media Xavier Bettel spoke of the challenges and opportunities of the new European regulation for the Grand Duchy.
"The new regulation, completed during the Luxembourg presidency of the Council of the European Union, constitutes an adaptation to a new world, a world in which technological innovation will allow substantial progress while ensuring respect for our fundamental principles. We want to prepare ourselves for the challenges, and we also want to open up to the opportunities of an increasingly digital society: a society in which we are happy to live, and in which we continue to have confidence. The CNPD is an essential player in ensuring that confidence," he said.
CNPD Chair Tine Larsen said: "The cornerstone of the new European regulation is (indeed) the notion of confidence: confidence that data controllers will process personal information responsibly, and confidence that the rules will be properly applied. It is up to the CNPD together with the other European supervisory authorities to generate that confidence."
Starting on 25 May 2018, the new rules – which will replace the current 1995 Directive – will be directly applicable in all the member States of the European Union, including the Grand Duchy, and will apply to all the players active in the country. The aim of the new regulation is to give ordinary citizens more control over their personal data, to make businesses adopt greater responsibility while reducing their administrative workload, and to reinforce the role of data protection authorities such as the CNPD.
Presentations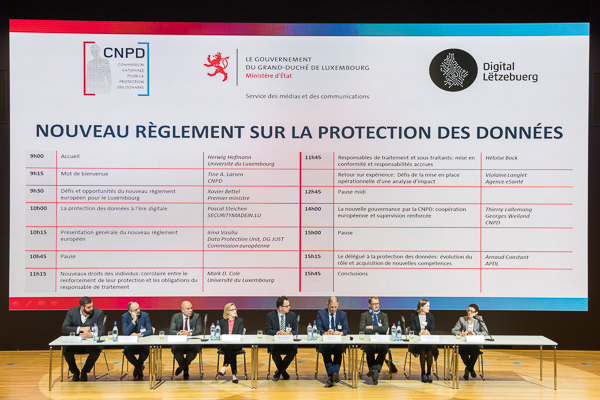 | | | |
| --- | --- | --- |
| Programme | Speaker | Download |
| Accueil des participants | Herwig Hofmann, Université du Luxembourg | |
| Mot de Bienvenue | Tine A. Larsen, Présidente de la CNPD | |
| Défis et opportunités du nouveau règlement européen pour le Luxembourg | Xavier Bettel, Premier ministre, Ministre des Communications et des Médias | |
| La protection des données à l'ère digitale | Pascal Steichen, SECURITYMADEIN.LU | |
| Présentation générale du nouveau règlement européen | Irina Vasiliu, Data protection Unit, DG JUST Commission européenne | |
| The (new) rights of data subjects according to the GDPR | Mark D. Cole, Université du Luxembourg | |
| Responsables de traitement et sous-traitants: mise en conformité et responsabilités accrues. | Héloïse Bock, Avocat à la Cour, Conseiller d'Etat | |
| Défis et mise en place opérationnelle d'une analyse d'impact relative à la protection des données | Violaine Langlet, Agence eSanté | |
| La nouvelle gouvernance par la CNPD: coopération européenne et supervision renforcée. | Thierry Lallemang, membre effectif de la CNPD | |
| Exemples de coopération entre les autorités de protection des données | Georges Weiland, service juridique de la CNPD | |
| Le délégué à la protection des données: évolution du rôle et acquisition de nouvelles compétences | Arnaud Constant, APDL | |